After another
embarrassing
loss this past Saturday, which I refused to write about out of pure spite, and
two
more
off-field incidents involving players and police, the heat is on Ron Zook. I suspect that Illinois Athletic Director Mike Thomas has made his decision already, even though he says he
hasn't
, and has either informed Zook and started looking for replacements, or has not informed Zook but has given the impression that Zook will be gone at the end of the season. Either way, with the way the Zooker
stormed out of his weekly press conference
after being asked about his future yesterday, even he must know the writing is on the wall. And if you look at all things considered, there is absolutely no question that Zook should go. If I'm Mike Thomas, I make the call right now.
Even Zook must know he's gone
We've all been told the advantages of keeping Ron Zook around - he can recruit, he's a good face of the program, blah, blah, blah - but none of the reasons to keep him around actually exist right now. First, any way you cut it, his
recruiting
has
been
terrible
this season. There could be multiple reasons for this. Other coaches are probably negatively recruiting Ron Zook to the extreme, telling every prospective recruit that Zook will be gone at the end of the season, that he can't develop players, etc. That's just how the business works. Moreover, players can see the lack of development that current players receive in the program. Think of all the elite talent that Zook recruited throughout his years here. Where are most of those players? Sure, some made it to the NFL, but he recruited seriously good talent. He could just never develop it the way it should have been (see, Juice Williams). And more to the point - have you seen Illinois play under Ron Zook? They're never prepared, they back down from pressure, his teams lack discipline - the list could go on and on. And look at his head coaching
record
!!! It's an embarrassment to Illinois as an institution that he has been here this long with those results.
I think the reason he's been around so long ties in well with his reputation of being the face of the program. For what seems like forever, Zook had the support of former Athletic Director Ron Guenther. Year after embarrassing year, you would hear calls from within the alumni and booster community to remove Zook from the position, and yet Guenther would not yield. Hell - he even gave Zook a
raise
! Well, with new leadership (
Michael Hogan
as the new President,
Phyllis Wise
as the new Chancellor) on the academic side of things, Guenther retired and Mike Thomas was
hired
as the new AD. Thomas has to have the ear already of alumni and boosters, which spells the end of Zook's tenure.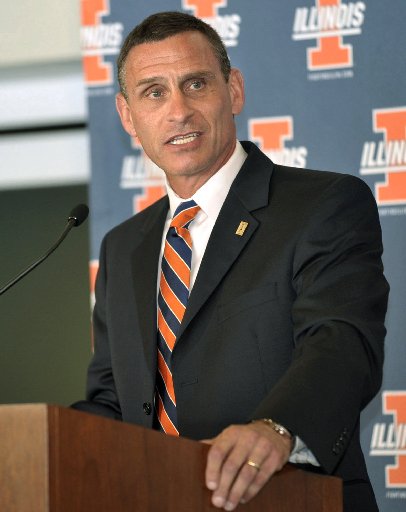 It's time for Thomas to make a move
For Thomas, it's the right, and easy, decision. But he needs to make it now. No sense waiting until the season is over. If I were him, I wait until right after Wisconsin blows Illinois out of the water this Saturday. But he must do it. He has a track record of changing sports cultures wherever he goes, and nowhere is there more needed a culture change than the Illinois football program. And for those who say that Illinois will forever be a basketball school, I couldn't disagree more. Given Thomas' reputation, plus the fact that college football programs rise and fall all the time, it could happen at Illinois. Just look at
Wisconsin
, for example. No one would doubt that they are a big time college football program right now. Yet, before
Barry Alvarez
arrived in 1990, Wisconsin had been a relatively mediocre football program for its entire existence. They had good seasons here and there (just like Illinois has), but no sustained period of success. When Alvarez arrived, he completely changed the culture of the program, and they haven't been the same since. Now look at
Iowa
. Until Hayden Fry arrived in Iowa in 1979, they were a middling program that had some years of success. Yet Fry turned the program around and made it a perennial contender. His disciple, Kirk Ferentz, has been continuing that success since Fry's retirement.
There was no secret at any of those schools. They just got the right person in place and let it take care of itself. Wisconsin and Iowa don't have anything, especially tradition-wise, that Illinois doesn't have. All it takes is one person who understands the entire aspect of the job to change the culture. What Wisconsin and Iowa had in common is that the men who came in to change those programs understood what it is like to win in the Big Ten. You have to play physical, tough, and disciplined football on a weekly basis to make it through the conference successfully. Illinois now doesn't even come close to that type of play. And when you think of Wisconsin and Iowa, what do you think of? Physical, tough, disciplined football teams that are always in a game and never back down. Those types of teams/programs will be successful every year. That's why you see 7-6 seasons with a crappy bowl game win being labeled as disappointing at Iowa and Wisconsin. At Illinois under Ron Zook, it gets him a raise.
World class facilities are only one factor for potential success
Why couldn't it happen at Illinois? We have just as much
tradition
as those other two programs (taking the last twenty/thirty years out of the equation) but have several other advantages. First, Illinois is the flagship state school in Illinois, which means they count Chicago as one of their biggest source of in-state constituents. They have to start taking advantage of that in every way, shape, and form. The recruiting advantages alone because of that should be enormous. Illinois also has a vast alumni network (read, wealthy) that is just chomping at the bit to donate to a successful program. This is crucial - if you look at nearly every successful program, many of the perks and attributes they have that contribute to success are a result of alumni/booster support. One only has to look at Nike founder Phil Knight, and the
success he has brought
Oregon, to see what happens when the football program is successful enough to invigorate the richest alumni. On another front, Illinois has outstanding
facilities
. Recruits love this stuff. They see world class facilities and instantly think of success in college and NFL paychecks after that. Having the biggest
football-only weight room
in the country is a huge sell. Illinois also has a
huge
student population desperate to cheer on a winner, and the vast alumni network feels the same way.
Moreover - Illinois is a Big Ten school. The fact that it resides in a massive and prestigious conference is yet another reason why it can be consistently successful. It just takes that right hire. And I believe that Thomas, who hired Brian Kelly at Cincinnati, will make the right choice. There's no doubt in my mind that out there somewhere is Illinois' version of Barry Alvarez and Hayden Fry. Who it could be is another question. The coach will have to be young, energetic, intense, eager, patient, and knowledgeable about Big Ten football and how it works. A really good example of the type of coach Thomas should be looking for is Pat Fitzgerald. He has even more of a mountain to climb at Northwestern but is already turning things around there. And really, that's all it takes. Thomas found that diamond in the rough culture changer in Brian Kelly at Cincinnati. Now its time for him to do it on the Big Ten stage.