Well, it happened
again
- the Illini were Zooked. Illinois marched into a completely winnable game against an overrated Penn State team and completely dropped a win that could have gotten the season on track. Instead, the Illini fall to 6-3, continuing the spiral back towards mediocrity after a sterling 6-0 start to the season. Nationally speaking, 6-3 is still a good record for a team that could presumably finish 9-3 and make it to a major bowl. But on the smaller scale within Illini nation, everyone who has followed this team for the last 7 years knows how this one is going to end. Quite simply, this has trademark Ron Zook written all over it, and Illinois enters a bye week with
little hope
on the horizon.
Go back to the game for a minute, and look at how the Illinois
possessions break down
:
First Quarter:

Punt (3 and Out)
Punt (3 and Out, with a nice false start penalty thrown in there just for fun)
Punt (3 and Out, failing to seize momentum after a PSU missed FG)
Punt (3 and Out, failing to seize momentum after a PSU fumble on their own 37 yard line)

Second Quarter:

Punt (3 and Out, somehow failing to convert 3rd and 27)
Punt (3 and Out)
Fumble (FINALLY THEIR FIRST FIRST DOWN, only to be followed by a holding call and subsequent fumble by Nate Scheelhaase)
Punt (Hmmm, you mean Reilly O'Toole couldn't do it either??)
Interception (this was the missed FG play, where the holder threw the interception. Of course he did.)

Third Quarter:

Punt (another inept drive with no chemistry due to the QB substitutions)
Interception (wait - Reilly O'Toole threw an interception??? After Illinois intercepted PSU? SHOCKED.)
Touchdown (the only points the Illini would score. A cohesive, well-called drive that featured only Scheelhaase, and only one attempted pass on the entire drive. I'm sure Ron Zook was in the bathroom or asleep during this drive)
Fumble (Ron Zook must be back, for it was run up the middle, stop. Run up the middle, stop, fumble. Please tell me that isn't Paul Petrino's playcalling. Don't tell me we're paying him an insane amount of money to screw up something that the Zooker can do himself.)

Fourth Quarter:

Punt Blocked (maybe Punter Justin Duvernois was tired from punting the entire game, or maybe we should just remember that this was a Ron Zook team, sadly nod our heads, and move on. PSU kicks a FG from this to make it 7-3)
Punt (the most excruciating possession in the entire game, as hard as that is to believe. Take 4 minutes to go 30 yards, and then punt? Of course, Zook's discipline rubbed off again, as a holding call killed the drive and dug the Illini into a 2nd and 20 hole. Couldn't you just tell what was coming at this point? PSU drives the ball down the field and scores, making it 10-7 with a minute left. Thank god we didn't adjust to PSU's best receiver having single coverage that whole drive. Wouldn't want to do that at all, right?)
Missed FG (Derek Dimke misses a 42 yarder off the right upright to lose the game as time expires. Once we got down the field to make the kick, I'm willing to bet that a healthy majority of Illini fans knew the kick wasn't going in. Come on - this is a Ron Zook team!)
A Look Illini Nation Knows All Too Well
That could possibly be one of the worst executed or game-planned Illinois games I've ever seen. Wait, I take that back - it's only the worst this season. And that is saying something coming off of the Purdue embarrassment. Yet, Ron Zook has had games like this in his entire tenure. For as long as we've seen him at the helm, there have been maddening games that make you wonder how he both got the job in the first place, and how he held onto it this long. It's embarrassing a football program and a university in front of the entire Big Ten and all of college football. The worst part of it all is that even at 6-0, when the Illini were finally ranked and getting good national exposure, anyone who knows this team, this coach, knew what was going to happen. The meat of the schedule would hit, and all the talent that Ron Zook recruits so well will look listless, undisciplined, and lost on gameday. The lack of gameplanning is appalling.
Add this one to the list of games that should have been won, and there's a game like that in Zook's tenure for each Big Ten team out there and then some. The talent on Illinois' offense should have neutralized the strong Penn State defense, and the total futility of the Penn State offense should have been a field day for the Illinois defense. Yet somehow the Illinois offense stalled for the entire game. The Zooker's decisionmaking has reached an all time low, from the Reilly O'Toole experiment (which should never have happened in the first place because it burned the future QB of the program's redshirt while the Scheelhaase still has two years of eligibility after this year) to not having his players amped to play in one of the more difficult stadiums to play in throughout the country. As a Big Ten team, if you can't get your players pumped to go to Penn State and try to win a game, you don't belong as a coach in this conference.
How does this happen time and time again? Every team and program have off nights, but this wasn't an off night - it was par for the course. What else do you expect from the guy? Hiring talented coordinators hasn't worked, and I would guess it in large part deals with the fact that the coordinators' boss - Zook - probably still does a a great deal of the game planning and preparation, regardless of the ability that each coordinator has to do his job. And because at this point the only thing that Ron Zook does well - recruit - is on such a
horrible
downturn
, there is simply no reason to keep him around. The negatives of keeping him around as a semi-figure head versus the positives of his recruiting just don't weigh in the right direction anymore.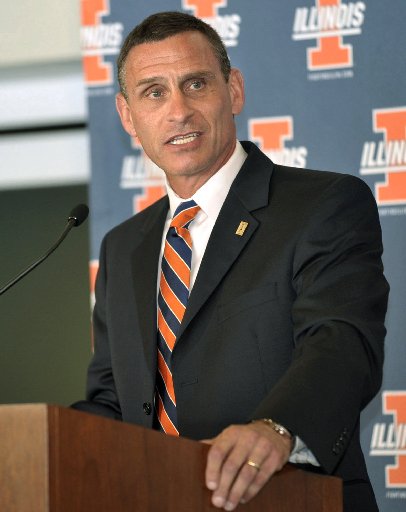 Mike Thomas, Come on Down.
With a schedule remaining of Michigan, Wisconsin, and Minnesota (who just beat Iowa), the Illini could conceivably lose out. Trust me - it's not out of the question considering Ron Zook's ability to lose to
vastly inferior teams
. This is where Mike Thomas, the new athletic director for Illinois, comes in. Thomas is obviously going to evaluate both men's basketball and football, the two money making sports, to make sure that each program is headed in a direction it should. Once he does that, I certainly hope that the first stamp he makes on the program is to fire the Zooker and bring in a eager head coach to get the job done. Or, for that matter, promote Petrino if he sees fit.
What's the drawback? I recognize what a legitimately nice guy Zook is, and how he is a good face for the program. But is that enough for him to keep up this job performance? College football is a tough game and it's ultimately hard to feel bad for someone who has made well over a million dollars a year to produce these kind of results. Perhaps the Zooker is better off elsewhere, and maybe not in a head coaching role (NFL?). Besides, recruiting sucks right now, and with Zook at the helm the Illini are destined for consistent losing seasons interspersed with the occasional 7-5 or 8-4 season. For me, that is unacceptable. Sure, much can be made about how Illinois is not a traditionally successful football program in the modern era, and that's entirely true. But Illinois is the flagship school of a state that produces dozens of Division I (screw the FBS/FCS lingo nonsense) players every year. With the resources of such a large university, a huge alumni/booster network, a large fanbase, one of the largest cities in the US decently close to campus, and such a large pool of high school athletes to recruit from, there is just no excuse why Illinois cannot be competitive in football every year.
This is where Mike Thomas can put his stamp on the team. As Cincinnati's AD, he turned a nondescript football program into an undefeated BCS team with the hiring of Brian Kelly. Kelly came from Central Michigan and was hardly considered a coaching prodigy when he was hired at Cincinnati. But Thomas had an eye for his ability, and Kelly as a result turned Cincinnati into a relevant football team on a yearly basis. And that is all that Illinois fans ask for - consistency. Illinois needs their Kirk Ferentz - a coach who can turn Illinois into an Iowa-type Big Ten program, that competes every year and every now and then puts up a 10-2/11-1 type season. That is how successful college football programs are run. This isn't asking for the moon; Illini nation realizes that in football we aren't ever going to be Michigan, Ohio State, Oklahoma, etc. We just want to see our team go into hostile environments like those at Penn State and pull out victories that should be theirs, or squash a crappy Purdue team like they should have last week. And after what is quickly turning into a trademark Ron Zook season, Mike Thomas just might have the chance to make that happen.