Everyone remembers the Cup Year, and the pure giddy joy
it brought us
starved-for-success Hawks fans. And then everyone remembers last year, a year marked by frustration, anger, and
sadness
. That's why this year was so important - it was a chance for the young talent in Chicago to prove that the Cup Year was no flash in the pan. And from what we can see thus far this season, the Hawks have a chance to repeat their Cup Year success.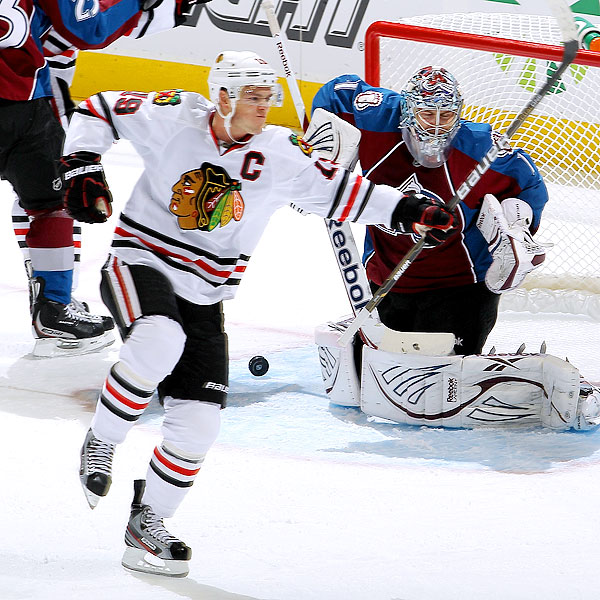 Jonathan Toews Leads a Potentially Dominant Team
I've long hated the Detroit Red Wings. But in a way, I deeply respect one thing about them, and it is their consistent success. The Red Wings have made it their team philosophy to draft great young talent as a core, keep it around, and then add players to that core each year to make it a contender. And it
works
.
When Stan Bowman took over for Dale Tallon as Blackhawks GM, he was left in a position to retool the Hawks for a new generation of winning. He had Jonathan Toews and Patrick Kane already on the roster, along with Duncan Keith, Brent Seabrook, and Patrick Sharp. Bowman, through his father, Scotty, knew how the Red Wings operation worked and started to eumlate it here. Only now, in 2011-2012, are the results starting to come to fruition (the Cup Year was special, not a result of this model). The Hawks have an outstanding young core led by Toews, Kane, Keith, Seabrook, Sharp, Dave Bolland, and others. With other pieces in place, like Andrew Burnette, Marian Hossa, and others, the Hawks have finally got the perfect combination that just so happened to come into play in the Cup Year.
It all starts at the top. The top line of Toews, Sharp, and Burnette is outstanding. Thus far Burnette has been a veteran goal scoring revelation, playing well on the powerplay and accentuating the skills of Sharp and Toews perfectly. Combine that with the always excellent play of Sharp and Toews and the first line has no issues. After that, no one knew much of what to expect this season from the rest of the Hawks lineup. Well one thing is for sure - those fears have been answered and then some.
The second line experiment of Kane centering Hossa and Daniel Carcillo has been my favorite. Kane, another crucial part of the young core, is able to showcase his full playmaking skill set on a nightly basis, particularly with this play:
Kane's playmaking is also rubbing off on Marian Hossa, who is experiencing some kind of rejuvenation this season that is what everyone expected of him when
he signed his massive contract
with the Hawks in 2009. He looks like the Marian Hossa of
old
, who rattled off goals like it was (and is) his job. The only issue I have here is with Carcillo. I like the player, he's a pest who gets under the skin and agitates the opposing team. He's something that we've needed since the Cup Year, and adds a degree of toughness that was missing last year.
Having said that
, I don't think his right place is on this line. He belongs on a lower more physical, checking line. I actually think this will happen once Viktor Stalberg returns full time from injury, and Stalberg will move into Carcillo' spot on the second line while Carcillo slips down to the fourth line (more on that in a minute). If they add another playmaker to that line, watch out.
Dave Bolland, an underrated difference maker
I also love the third line, centered by Dave Bolland with Bryan Bickell and Michael Frolik out on the wings. Frolik has had several occasions this year to exhibit the athleticism and speed that made him a first round pick in
2006
. I think his better play this year has had loads to do with why the Hawks look and feel like they have so much more depth this year, even though they have many of the same players. Bickell brings a good amount of
toughness
and
defensive presence
to the ice, and has an
underrated offensive game
. But my personal favorite is Davey Bolland. He is the spark plug that ignites the second half of the Hawks lineup and brings defensive presence that makes a true difference. Really, he's a player that just needs to be watched to understand the impact he makes. The guy is simply a damn good hockey player.
The fourth line represents the exact component that was missing from the Hawks last year. Centered by Marcus Kruger, this line features Rostislav Olesz and Jamal Mayers on the wings. I love Mayers, and this clip says it all:
With Olesz soon to be on his way to
Rockford
or a consistent place on the scratch list, I could see Carcillo moving to this line and making it what it should be - a physically dominating checking line. Kruger is already showing what a solid defensive young center he can be, and when you add the agitation that Mayers and Carcillo cause other teams, their value to the team cannot be understated. If they Hawks need to make a physical statement on the forecheck, teach someone on the other team's offense a lesson, or simply alter the momentum of a game, they can call on this potential line. I love it, and it's something that was sorely lacking last year.
Nick Leddy has really stood out
I like the defensive pairings thus far, with Duncan Keith and Nick Leddy playing together, in addition to Brent Seabrook and Niklas Hjarmalsson. I miss the days of Keith and Seabrook playing together, however, and based upon the excellent play thus far of Nick Leddy, think that Joel Quenville could move Seabrook back to his original pairing with Keith. But hey, if it ain't broke, don't fix it right? More on Leddy - he's only 20 years old and showing just what kind of elite blue liner he could be in his career. His play has kept the Hawks defense playing near the top of the NHL. The only issue I have with this area is the third pairing, of Steve Montador/John Scott and Sean O'Donnell. None of these guys inspires much in the way of confidence, and all seem to be slow moving old guys. I understand the need to have a veteran physical presence, but I don't know if its entirely necessary in this area. Seabrook and Keith alone are already veterans. I could definitely see this being an area that gets addressed by Bowman around the trade deadline.
I love the goaltending, for the most part. Corey Crawford is the real deal, and could be the type that mans the pipes for the Hawks for a long time. The issue I have, however, is with the backup slot. Ray Emery is not the answer. Granted, I think the fact that we can mince words over the quality of a backup goaltender exhibits just how good the Hawks are this year. Regardless, it's something they might want to address at some point.
Once the Hawks get going, the amount of talent they have can lead to ridiculous results. The "Detroit" model is being followed here in successful fashion. With young guys like Toews, Kane, Bolland, and Sharp, the pieces to the Stanley Cup puzzle are here to stay for years to come. Adding crucial pieces, like Andrew Burnette, Jamal Mayers, and Daniel Carcillo, are the perfect example of what happens when you surround a young core with perfect veteran complementary pieces. I for one, am beyond excited for what this year can bring. With the veteran coaching of Joel Quenneville, the motivated and sharp front office, and great complimentary team, the cast of characters looks to be set for another movie-like season for the Hawks. Can't wait to see how it plays out.