I made it a point to look back and figure out why I hadn't been talking about the Hawks in this blog much recently. I looked back to great start to the season, the
horrible loss
to Vancouver and subsequent
huge win
against Vancouver, and a
bad stretch
to end the annual November circus road trip and realized that the problem is that the Hawks are maddeningly inconsistent. They are just impossible to get a read on, making it difficult to assess such an up and down season thus far.
The Hawks certainly have put out some offense.The Hawks are
third
in the NHL in goals per game,
eleventh
in power play percentage,
fourth
in shots per game, consistently
win
when leading after the first period, and are
eighth
in total plus/minus. And with
35 points
, the Hawks do sit near the top of the standings, as they have for nearly the entire season. So, while the sky is not falling, there are certainly some issues with the Hawks that need to be addressed, for they have the ability to be a dominant team night in and night out and they simply aren't doing it.
Keith, like the Hawks, must play more consistently
For me, the primary issue is defense. One of the more underrated strengths of the Hawks Stanley Cup team of 09-10 was the depth and dominance of the defense. That year, players like Duncan Keith, Brent Seabrook, and Niklas Hjarmalsson had career years, bolstered in depth with a player like Dustin Byfuglien. That group could go toe to toe with any offense in the league and was so skilled that Joel Quenneville was allowed to take more chances with the skill players on offense and in the forecheck, leading to more scoring opportunities. This year, however, the defense is the weakness of the team. At the top, Keith is having a season as up and down as the entire Hawks team. At the beginning of the season, Keith looked like his old Norris Trophy self, controlling the puck and dominating on the backcheck. Yet, over the course of the November road trip, he returned to the
inconsistency
that plagued his 10-11 season. It could be the result of playing hurt, and it could be the result of pressing too hard to make up for the absence of the injured Brent Seabrook. One thing is for sure - Keith needs to settle down, focus, and play his game. Maybe Coach Q's switch back to pairing Keith with Seabrook will help this full time.
The rest of the defense is suspect to say the least. For all the strengths on offense, the Hawks sit in
twenty-first
overall in goals allowed per game. The Hawks are
nineteenth
in goals against in five-on-five scenarios (basically no power play or penalty kill). Even worse, the Hawks are ALMOST DEAD LAST in penalty kill, sitting at
twenty-ninth
in the league. They have all these horrible percentages while maintaining a shots-allowed ratio good enough for
eighth
in the league. So while it looks great that they
win the majority
of the games where they're outshot, that is misleading because they aren't outshot for most of their games.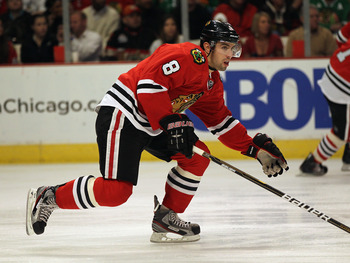 Leddy is playing well beyond his years
These numbers tell us one thing: the Hawks defense sucks. You have only one defenseman, Nick Leddy, playing consistent the entire year. The rest of the 6-7 defenseman the Hawks carry have been either highly inconsistent (Keith, in
Year 2
of a 13 year, $72 million contract), injured (Seabrook), underperforming (Hjarmalsson), old (John Scott, Steve Montador, or Sean O'Donnell), or clueless enough to be a healthy scratch most nights (Sami Lepisto). When your best defenseman is a
20 year old
, you know there are problems. Leddy has been the most consistent player on defense for the Hawks all year. He plays well above age and has cut down on the mental errors and positioning mistakes that cut into his playing time last year. He actually reminds me of a young Duncan Keith, with great speed, vision, and good offense playmaking ability for a defenseman. Let's hope here that he keeps it up, because the Hawks are going to need it.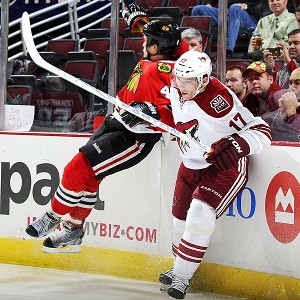 Hjarmalsson getting knocked around, as usual
When Seabrook is healthy, Keith plays much better. So based purely on their past success, their veteran abilities, and really, their contract, we can expect those two to step it up and be as consistent as Leddy has been all year. The problem then, is with the other half of the starting defensemen. Hjarmalsson, who the Hawks made a priority when they
matched an offer sheet
for him in the 2010 offseason after he played so well for them that year, has not lived up to his contract at all. He offers hardly any offensive value whatsoever and at times seems averse to contact in the defensive zone. The Hawks gave him a big contract based off a 09-10 season where he was physical, blocked shots, and provided some puck control on the offensive end. He does hardly any of that now outside of blocking some shots. We might have to come to the realization that The Hammer (and how does he have this nickname??) will merely always be a 4th or 5th defenseman. This may be ok, but when a season hinges on the quality of defensive play, there needs to be more. Especially when you consider the last pairing of the defense.
Coach Q rotates four guys in and out for the last defensive pairing, and they each suck. Pick your poison; the three old guys - Scott, Montador, or O'Donnell, or the younger guy who can't even beat out the old guys on a consistent basis - Lepisto. You know that its the weakness of the team when Q has the top 4 defensemen play the majority of the game against the St. Louis Blues last night and severely curtail the minutes of whoever the third pairing was. This issue needs to be fixed. The Hawks give up an inordinate amount of stupid goals, and none more than when any of these guys are on the ice. Sure, Montador had a stretch of putting up some great offense. But right now, we don't need more offense. This has to be one area that GM Stan Bowman looks to address via trade. Let's hope he does so and avoids trading for the flashy
big-name offensive player
as some rumors suggest. And now, doesn't Bowman look stupid for refusing to work with Chris Campoli to resign him this summer? I understand he rejected your offer Bowman, but wouldn't it be nice to have him now when the defense is struggling so bad?
It's easy for the casual hockey fan to see Corey Crawford's
stats
and immediately think that he's the problem. And surely, he's not playing his best hockey right now, with way too many soft goals allowed and a deer-in-headlights look as he seems to lose the confidence that soared with his epic performance in the playoffs last year. But I would argue that most of it is not his fault. His defense is playing so inconsistently that it would take a huge effort to make up for their deficiencies. Even still, like the rest of the team, he has to step it up. When one part of your team is struggling, it's on you to step up your game and help your teammates.
Toews & Co. needed now more than ever
The
game last night
against the Blues was encouraging. The Hawks' stars played outstanding, like they should when the team as a whole isn't playing so well every night. It's going to take great nights like we saw from Jonathan Toews, Patrick Sharp, and Marian Hossa last night to keep winning, and right now it really looks like we might have to outscore some teams until the defensive problems are sorted out. But isn't this what makes for good teams? It's rare to have a dominant Cup team like the Hawks had in 09-10. What makes a great team is the ability to overcome weaknesses, find other ways to address them, and utilize the strengths of your team to consistently win. Right now, that's what we have to hope for. We have to hope that moving Patrick Kane from center back to wing will pay off, that Toews, Sharp, and Hossa will keep the offense playing well, and that all of this can overcome the defensive weaknesses of the team. Regardless, it's pretty nice to be sitting in first place even with these problems.