By now it's been well-talked about that Illinois
named
former Toledo Head Coach Tim Beckman as its new football coach. I would have gotten to this sooner were it not for the hell that law school finals are, but I'll give my thoughts on an interesting, and somewhat unexpected, hire. And if I accidentally use any
secured transactions
lingo like
perfection
,
priority
, or
future advances
, just know that I'm attempting to talk about Illinois football and not the subject that's been dominating my brain the last 3 days. My apologies in advance.
So what do we make of this hire? It seems like Illinois fans have taken two paths on this one - either they are excited about the new direction for the program, or feel like Beckman is an awful hire and wanted someone else. I'll try to address the latter's points before illustrating why I think that they're wrong.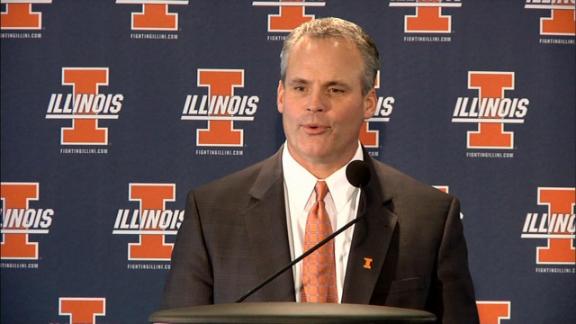 Not the Most Popular Choice
The naysayers were quick to hop on this one. Over the last week, the rumors flying as to who would be named head coach were mind-boggling. Reports focused on Oklahoma State offensive coordinator Todd Monken heading to Illinois for his first coaching gig, and then the big rumors/news hit - that Illinois was
close to signing
Houston coach Kevin Sumlin. For this part of the Illinois fan base, it was presumably Sumlin or bust, so when that didn't happen and Beckman stepped into the picture, most of the fans were probably saying to themselves, "who?" Attempting to gather as much information on the guy as they could, they saw that he'd coached under guys like Urban Meyer, Jim Tressel, and Mike Gundy, the latter being as defensive coordinator, before leaving to take over a reeling Toledo program. But in looking closer at that, they found plenty of statistics that they didn't like. A defensive-minded coach, his defenses at Toledo were ranked
76th
in total defense this year (including giving up more than 60 points in back to back games against Northern Illinois and Western Michigan),
56th
in total defense in 2010, and
95th
in total defense in 2009. As defensive coordinator at Oklahoma State, his defenses were ranked
93rd
in 2008 and
101st
in 2007. Those against the Beckman hiring looked at those numbers and couldn't possibly believe he was becoming the new head coach.
Even more importantly, they argued, where was the big splash that Illinois Athletic Director Mike Thomas promised? How was this the guy to change the program into a consistent winner? Beckman has minimal national recognition, and no proven success at the top in a major conference. Not to mention that he had minimal ties to Illinois, making recruiting here difficult. To them, it seemed like more of the same, especially given their response to his personality: a mini-Ron Zook.
On the flip side, the rest of the Illinois fan base was on board the hire, and they should be. Let me begin by saying that I have faith in Mike Thomas. He hired Brian Kelly from the MAC at Cincinnati, and all he got was back to back BCS bowl games, including an undefeated season. The guy knows what he's doing. So w
hen he reached into the MAC again to grab an admittedly unglamorous hire, of course there's going to be those who disagree. But take a look at the great coaches to come out of the MAC. Urban Meyer from Bowling Green, Brian Kelly from Central Michigan, Jim Grobe from Ohio, Brady Hoke from Ball State, Nick Saban from Toledo, Gary Pinkel from Toledo, and going even further back, Woody Hayes from Miami, Ara Parseghian from Miami, and Bo Schembechler
from Miami. That is an extraordinary list. And right now, Beckman was probably the best coach in the MAC, and the conference clearly has a tradition as being a breeding ground for successful coaches.
Splashy isn't always best
At the same time, what's the point of getting a splashy hire? What would it do, drive up ticket sales for one season? If you really want to drive up ticket sales, you try a new concept - winning. How about this list of unheralded, so-called "backup hires" - Barry Alvarez, Jim Tressel, Hayden Fry, and his successor Kirk Ferentz? The fact is, a splashy hire, whether by a big name or the latest flash in the pan (see Kevin Sumlin) can blow up in your face just as much as an unheralded hire, and most of the time, looks worse at the end if it does blow up. Examples: Charlie Weis, Dennis Erickson, Rich Rodriguez (at Michigan), Rick Neuheisel, Gary Barnett, Turner Gill, etc. I could go on for days with the failures.
I don't care what was unproven about Beckman. Take the defensive stats and whine all you want about a coach that we hired yesterday when he played with minimal talent on the defensive side at Toledo in a MAC conference that airs the ball out constantly, or coached against the likes of Sam Bradford and Colt McCoy at Oklahoma State. The only proven thing that I wanted, and I'm sure Thomas looked for, was the ability of the new coach to be a program-builder. And Beckman did just that at Toledo. When Beckman got there, the program had gone 18-30 in the previous four years. In his first year, Beckman gets them to 5-7, 8-5 and a bowl game the year after that, and 8-4 and a bowl game this year. And in the MAC, his record the past two years is 14-2, on top of the notoriously strong out of conference schedule they play.
Beckman prioritizes team above all
And it wasn't just the winning that he changed at Toledo. He redesigned the program from the ground up, interweaving competition, success, accountability, and respect into everything his players did on and off the field. He makes EVERYTHING competitive. Apparently he splits up his team into different teams, and has them compete in everything, whether its during lifting, workouts, social activities, and academics. All this does is create an amazing atmosphere for players to grow together as a team and emphasize winning above all else. Doesn't sound too bad to me. And competition in the classroom is only the tip of his policy on academics. Beckman truly believes in the term student-athlete, even going so far as to make his players sit in the first two rows of every class and require each player to personally initiate meetings with their professors outside of class. These are the kind of things that build a winning culture for a program.
Even better - after all the requirements and emphasis on academics, his players
love
him. His attention to detail and discipline instills accountability in each player and truly promotes the team over the individual. Beckman gets his team to constantly strive for perfection. He's unbelievably energetic, has his wife cook team meals every week and birthday cakes for each player, pulls dramatic stunts to bond with the players, and has even moved into the dorms with players during training camp to promote team unity. Just watch his introductory
press conference
and try not to get excited:
It makes me excited just thinking about it. And that enthusiasm? it comes across great in recruiting. He recruited the best two classes in the MAC the past year with another on the way this year. Granted, he's going to have to establish a foothold in the tough Chicago recruiting market, but I'd have to think that he could make it happen, considering he recruited under the likes of Urban Meyer and Jim Tressel. He's a tireless worker, understanding and making recruiting a priority. His other characteristics, namely the emphasis on academics, his family atmosphere, and discipline, will make recruits' parents happy. Not to mention that at Illinois, he'll have a bigger pool of resources (Chicago and St. Louis) to recruit from, he'll have the prestige of a Big Ten University to recruit to, and a much larger recruiting budget than he worked with at Toledo.
And really, why not make this hire, even if it is unorthodox? He could be a
rising star
, one that Illinois would have missed on if they tried to hire him 2 years from now. And it's not like Illinois has such a glorious history that we should be upset at not getting a coach like Kevin Sumlin. We're used to mediocrity in Champaign, but at the same time we know the potential that the program has (as does Beckman, who called Illinois a potential "goldmine"). We've gone out and made the easy hire before, and it just hasn't worked out. That's what makes this hire important - it's one that Illinois would never have made under different leadership. So for all those fans complaining, remember that the previous way of doing things at Illinois led nowhere but right to this point, hiring a coach again.
Sure, Beckman could flame out, just like any coach. But I hope, and sincerely believe, that Illinois will be better off with Tim Beckman. He just fits, satisfying a criteria that is nearly always overlooked. And finally, it appears like he legitimately cares about the future of the Illinois program. For all intents and purposes, he wants to stay around and build a strong program at Illinois. It
takes time
to build a program, something that Beckman, a coach's son, understands. That's something that Mike Thomas understands. And it's something that those who've known Beckman well - like Meyer, Tressel, and Gundy - swear Beckman can do. It's time we as alumni, students, boosters, and fans get behind our new coach, for good times could be on the way.